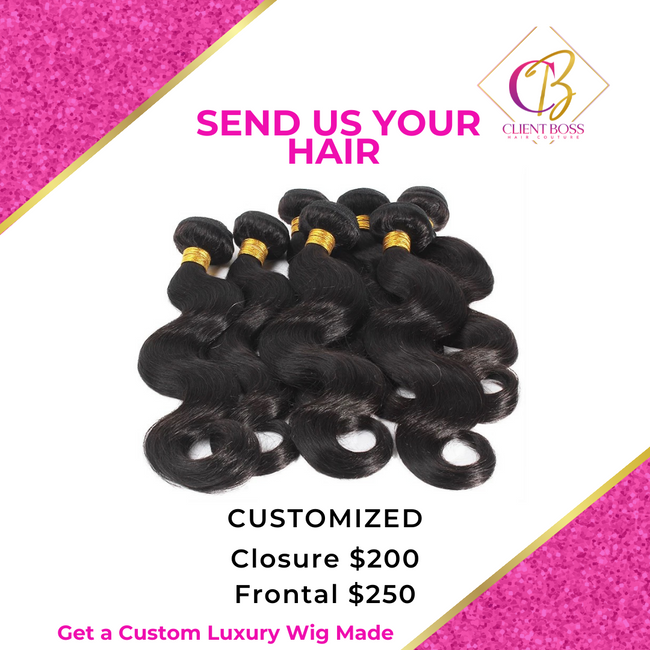 PLEASE ALLOW 7-10 DAYS  AFTER YOUR HAIR IS RECEIVED FOR YOUR COMPLETED. ONCE YOU PLACE YOUR ORDER EMAIL/TEXT FOR ADDRESS. PLEASE SEND TRACKING INFO ONCE YOU SHIP YOUR HAIR. THIS PRICE INCLUDES UNIT CONSTRUCTION, STYLING AND RETURN SHIPPING FEE BACK TO YOU.
Please understand if you have more than 3 bundles an additional fee of $15 per bundle will be charged. 5 bundles is the max
Lace must not be used. Must be brand new lace only! No bundles cut into small pieces will be accepted. If you send us hair that is cut and additional $20 will be charged and must be paid before pick up/shipping. .
Constructed on a dome cap with and adjustable elastic band
I will not flat iron deep wave hair. No exceptions.
Measurements are required! Please send measurements via email with your name and order number or add them to the notes at checkout. Refer to our measurements tab for additional details.
Please make sure your hair in LABELED by length BEFORE sending!
At checkout, in the notes section you will be able to describe how you would like your wig styled. Please be detailed. Wig style, where you want your part, and if you want baby hair.
Ex: styled straight with a right curved part, frontal effect; no baby hair
Customization (bleaching knots and plucking) is NOT INCLUDED! If your frontal or closure needs to be customized you must add the customization add on!
CURRENTLY, I DO NOT OFFER COLOR SERVICES WHEN YOU PROVIDE YOUR OWN HAIR!!